Honestly, deep down in the bottom of your heart,
how do you feel when someone says, "Happy Holidays" to you?
I used to feel slightly warm on the inside as Christmas became more and more secular, but this year not at all. Not warm, and definitely not fuzzy. I feel like they're just saying a seasonal version of "have a good one!" And when some one says that, I don't get all sappy and think, "Wow! That person really wants the best for me in life!" So I prefer—just like I always have—a "holiday wish" for the actual holiday that it is. And I do the same thing in return!
Even though I'm a Gentile, I still wish my Jew-pals Happy Hanukkah. Because I do want them to have one, even if I don't. And if my Jew-buddy reflexively said, "Happy Hanukkah" back – would I be offended? Of course not! Because of their intent. But it seems like people are scared of offending some non-Christian who doesn't celebrate Christmas. Your intent is to spread good cheer, so who cares if they're Xian or not? I really appreciate it and feel both warm and fuzzy inside when someone I don't know wishes me a Merry Christmas. So, Merry Christmas everyone! =)
Just in case you need permission from someone…
Or if seeing it on a shirt makes it ok…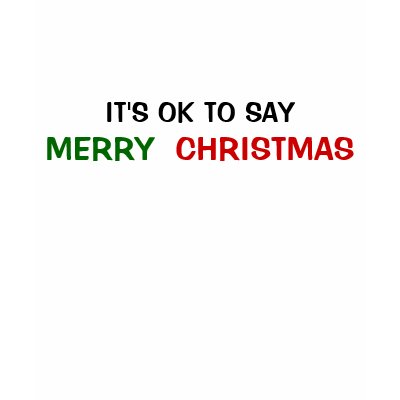 It's OK to say Merry Christmas. =)
6 Responses to "It's OK To Say Merry Christmas"
Speak on it!